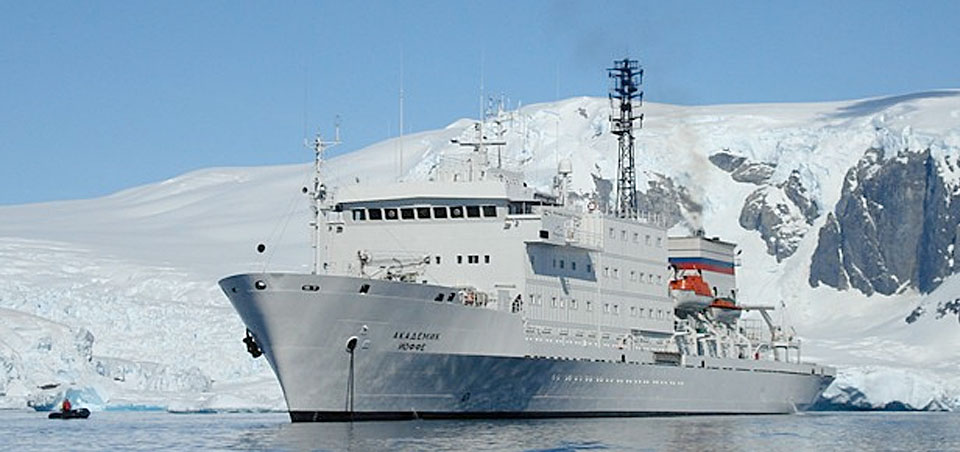 Designed for polar research, the Akademik Ioffe is modern, comfortable, safe and ice-strengthened. From small group sessions to briefings for all passengers, we have public spaces onboard the ship ideally suited for each and every need.
A separate bar and lounge, as well as a library provide ideal places to sit and relax or catch up on some reading. A selection of movies and documentaries can also be watched in the lounge. Enjoy the sumptuous meals prepared for you by our culinary team in our dining room, which can host all clients in a single seating with ample room.
All cabins on the Vavilov and Ioffe are outside with some offering portholes and others offering windows that open. They are tastefully furnished, with plenty of storage space for your gear and clothing.
Bridge access available to passengers. An Iridium satellite communication system is in place for both voice and personal email use
Dining Room
Bar
Elevator
Fitness Room
Wellness Centre with massage therapist, fitness trainer, yoga instructor (on select departures) sauna and hot water spa. Infirmary catering to basic medical needs and an English speaking emergency physician on every voyage
Library
Lounge
Mud Room for drying expedition clothes and boots
Presentation Room
Sauna, Hot Water Spa and Polar Salt Water Plunge Pool
Top Deck and Observatory; Multimedia Room with software for photo management and manipulation
Gift Shop

Main Deck Triple Share – Located on Deck 3 these cabins have bunk beds and a sofa bed. Facilities are shared. There is a washbasin with cold/hot water in the cabin, a writing desk/chair, in-room clock radio with ipod connector kit, and ample storage space. All cabins have a porthole.
Additional features and amenities:
Bathrobes

Twin Semi-Private – Located on Deck 4 these cabins have one lower berth and one sofa bed, a writing desk,in-room clock radio with ipod connector kit and ample storage. Facilities are semi-private (one bathroom between two cabins). All cabins have a window which opens.
Additional features and amenities:
Toiletry kit
Hairdryer
Coffee/tea maker
Bathrobes

Twin Private – These cabins are located on Deck 4 and 5. All cabins have two lower berths, a writing desk/chair, in-room clock radio with ipod connector kit and ample storage. Facilities are private and all cabins have a window.Additional features and amenities:
Toiletry kit
Hairdryer
Coffee/tea maker
Bathrobes

Superior  – Located on Deck 6 these cabins have two lower berths, a sofa, a writing desk/chair, in-room clock radio with ipod connector kit and ample storage. Facilities are private and all cabins have a window.
Additional features and amenities:
Toiletry kit
Hairdryer
Coffee/tea maker
Vanity kit
Bathrobes
Upgraded bed linen/duvets

Shackleton Suite – These cabins are located on Deck 4 and 5. All cabins have one double berth, one sofa bed, separate sleeping quarters, a writing desk/chair, ipad with polar literature and access to various media, IPod Dock Alarm Clock. Facilities are private and all cabins have windows, which can be opened.
Additional features and amenities:

Upgraded bed linen/duvets
CD player/mini stereo system with connection for Ipod™/mp3 player
Use of our CD selection
Mini bar/ice bucket
Hairdryer
Coffee/tea maker
Toiletry kit
Vanity kit
Organic cotton luxury logoed bathrobes
Arrival gift basket with healthy snacks and a bottle of wine
Binoculars and wildlife reference book.

One Ocean Suite – Located on Deck 5 this cabin has a double berth, one sofa bed and separate sleeping quarters, up-graded bedding, a writing desk/chair, ipad with polar literature and access to various media, IPod Dock Alarm Clock and IPod Speaker System for main room. Facilities are private and have a bathtub. This cabin has windows overlooking the bow, which can be opened.
Additional features and amenities:

Upgraded bed linen/duvets
CD player/mini stereo system with connection for Ipod™/mp3 player
Use of our CD selection
Mini bar/refrigerator
Hairdryer
Coffee/tea maker
Toiletry kit and vanity kit
Organic cotton luxury logoed bathrobes
Arrival gift basket with healthy snacks and a bottle of wine
Binoculars and wildlife reference book.

Staff and Crew: 53
Guests: 96
Lifeboats: 2 fully enclosed
Length: 117 m
Breadth: 18.2 m
Draft: 6 m
Propulsion: Diesel: Diesel Twin Engines 6,700hp
Ice Class: 1D
Cruising Speed: 13 knots in open water
Registered: Russia
Akademik Ioffe Interior Photos
Akademik Ioffe Superior Suite
Akademik Ioffe One Ocean Suite