Your Antarctic adventure beings with a sense of excitement and anticipation.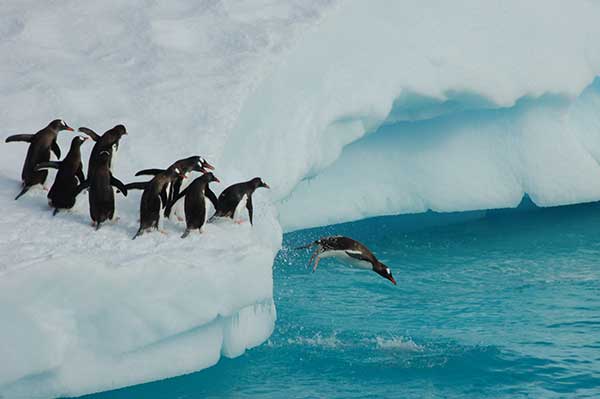 Our Back Track Adventure consultants are experienced in Antarctic travel and will help you understand all of the options and help you make the decision about which trip is right for you.
Our Antarctic voyage vessels are a select range of expedition ships that we know offer an uncompromising quality experience. These ships provide a warm and comfortable home base throughout your journey.
You will be well looked after by the hospitality staff on board. An experienced chef will oversee the preparation of an impressive array of delicious and hearty meals.
Antarctica is one of the last untouched places on Earth Throughout your expedition, you will enjoy getting to know your expedition leaders and crew as they introduce you to the history, geology, ecology and wildlife with a series of on board educational lectures and presentations plus daily excursions and landings.
You'll experience the breathtaking beauty of the Antarctic landscape, and sheer joyful wonder while spending time with the wildlife of this remote wilderness.
Many of our clients call this voyage 'the adventure of a lifetime'.
What you need to know
What's it like on an Antarctic voyage?
Throughout the voyage, there will be a series of onboard educational lectures by historians, naturalists and photographers.
These same experts will then escort you on as many zodiac landings and cruises as possible,  to get up close to the many species of penguin, seal and seabird colonies.
There will be opportunities to go hiking, mountaineering, cross-country skiing or sea kayaking. It can be as active or inactive as you want it to be. No activity is compulsory
At the end of each day, enjoy a recap of the day's events, a fantastic dinner, great conversation as you reflect on another incredible day.
No two voyages will be the same and flexibility is an important part of each expedition. Your expedition leader works with the ship's captain to monitor the weather and ice conditions to ensure your safety and deliver the best experience possible.
When should I go?
In November, the ice is at its most spectacular and it is a time of mating and nesting for penguin and other birds. It is also a time when the dominant male seals establish their harems and territory. December and January bring the longest days of the summer and is the perfect time to see penguin chicks hatching. February and March is a time of great wildlife activity with penguins moulting, chicks moving through the adolescent phase and increased whale activity.
Your Expedition Team
Each expedition is managed by an expert Polar Team whose sole focus is to look after you and your safety to ensure your experience encompasses everything that Antarctica has to offer.
Between them, your expedition leaders and crew have made hundreds of Antarctic voyages. They bring a wealth of knowledge and expertise ranging from the wildlife of the region o the history of exploration. They all share a genuine, infectious passion for Antarctica.
Your Polar gear package
On most voyages you will be given a quality waterproof/windproof jacket, bib-pants as well as insulated, comfortable rubber boots, designed for extended walking; all of which you may be able to keep and the loan of rubber boots for shore landings.
Of course, if you do have your own gear, you are welcome to bring it along.
We provide you with advice and detailed packing lists.
Travelling alone
It is not uncommon for people to travel to Antarctica solo. We can book you a twin, triple or quad share room with someone of the same gender (subject to availability) or you can pay a single supplement if you would like your own cabin. Ship life is a very social affair and many lifelong friendships have been made on board.
Important pre-tour information
With more than 15 years of Antarctic travel experience, we are able to provide you with plenty of pre-trip advice and detailed information about your Antarctic expedition.
We are always available to answer your questions. The expert consultants in our Brisbane office have first-hand knowledge of Antarctic travel to help you prepare for this journey of a lifetime.
Extend your trip in South America
Many of our clients combine their Antarctic adventure with further travel in South America. With 30 years of experience in adventure travel, particularly travel to South America, we can offer sound advice and recommendations to help you make the most of your holiday time.
Additional accommodation and travel arrangements
Back Track Travel is a fully licensed travel agency and can give you advice and recommendations, arrange all of your flights, book pre and post trip accommodation and tours, plus any additional travel arrangements that you may require. We can also attend to visa and travel insurance requirements.
Safety
There are no compromises here. All Operators have the deepest respect for Polar weather and the varying sea and ice conditions found in these regions. That respect is apparent in every decision they make.
They carry the most extensive inventory of safety equipment on all excursions and require their leaders to undergo vigorous and effective safety training programmes. They are well prepared, so you can relax and enjoy your voyage.
Responsible travel
Like many of our travellers, Back Track is well aware of the positive and negative impacts of tourism, particularly in the fragile polar environment. We are advocates for protecting the fragile Antarctic ecosystem. Thus, we only partner with members of IAATO who operate within and require their passengers to observe, the internationally recognised guidelines for tourism in Antarctica.
Put Yourself in the Picture
Daily Landings and Zodiac Cruises
Your expedition team aim to get you off the ship as much as possible. A fleet of zodiacs are available and will take you on shore for up-close wildlife experiences, visits to scientific research stations or take in the spectacular Antarctic landscapes.
Wildlife and Birdwatching
Wildlife and bird watching is the backbone of all the expedition programs and will be a highlight of your adventure.
All landings provide you with plenty of time to get up close and personal with the wildlife of Antarctica.
Regular lectures by onboard naturalists and ornithologists will introduce you to, and bring to life, this amazing habitat. Your wildlife experiences will be enhanced by their in-depth knowledge and insights.
Hiking
Whenever you make a landing you will be given an opportunity to explore within the guidelines for safety set by your expedition leader and your own fitness levels. On many voyages, there will also be an opportunity to go on exploratory walks that may vary in duration from one or two hours, to as long as three or four hours.
Photography
Antarctica offers exceptional rewards for all photographers regardless of your level of enthusiasm and experience. Most voyages include photographic guides available for you to ask questions and provide guidance. Plus, the majority of expedition staff are knowledgeable photographers, keen to share their passion. There are also multimedia centres available on the ships.
On select departures, world-renowned photographers will be on board and enhanced photography programs are available for those who wish to experience and learn more including specific photographic expeditions.