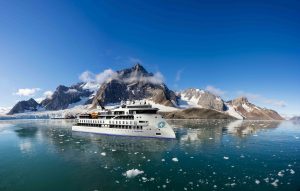 Vessel Type:  ice class 1A expedition ship
Length: 104 metres
Passenger Capacity: 120
Built: 2018, launching 2019
Launching in 2019, the Greg Mortimer is proudly named after Aurora's adventurous co-founder. This 104-metre ship is a purpose-built expedition vessel capable of negotiating the strongest winds and waves, built to world-class polar standards, and designed in close consultation with expedition specialists.
The Greg Mortimer redefines expedition cruising for the future, with just 120 passengers on board in the polar regions. Not only is the ship bigger to contend with adverse weather conditions, its added creature comforts make for a more enjoyable journey out on the open ocean. As a modern and custom-designed ship, the Greg Mortimer is at the cutting edge of nautical technology. Robust, powerful and built with guests in mind, the Greg Mortimer will make your journey a breeze!
Greg Mortimer X-BOWX-BOW™
Some of the expeditions face the worst Mother Nature can throw at them as they venture into exciting and untouched regions. However, this won't be problem on the Greg Mortimer with the introduction of the patented X-BOW™, created by Norwegian ship designer ULSTEIN. As one of the leaders in marine engineering, ULSTEIN's X-BOW™ is an inverted bow concept that's been built on over 100 vessels in the shipping industry. Excitingly, we are the first expedition cruise operator to utilise this technology for the challenging open ocean waves!
Accommodation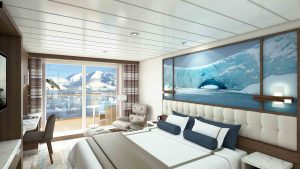 All staterooms have private bathrooms, personal storage options, twin and double-bed configuration options, ample storage, international power outlets and a daily cabin service, as well as all the basic amenities that you'll need onboard. Another great feature of the accommodation on the Greg Mortimer are the interconnecting staterooms. If you're part of a family or group who want some privacy, but still want to be close to each other, these staterooms are the perfect option. Regardless of your chosen stateroom, you can enjoy fully-serviced accommodation on the Greg Mortimer!
Hydraulic viewing platforms
To ensure you get the best views possible, the new ship features unique viewing platforms, custom-built for the Greg Mortimer. Accessed from Deck 5, the two platforms fold out hydraulically for unobstructed views of passing marine life and seabirds – make sure your camera is locked and loaded!
Zodiac launching platform and custom-built activity platform
On this new ship, there are specially designed launching platforms that enables us to load Zodiacs easily and quickly, allowing you to spend more time exploring on the two to three daily landings. There are 15 Zodiacs that are boarded from either side of Deck 3 (sea level). There is also a spacious prep and loading platform for all the activities you might want to undertake – designed in consultation with expert activity guides.
Environmentally friendly 
The Greg Mortimer offers reduced emissions into the air and sea, lower energy consumption, high fuel efficiency, reduced light pollution for minimal wildlife disruption and lower on-board plastic use. It's vital to also mention the state-of-the-art virtual anchoring technology of the X-BOW™, which means the ship can float anchorless while launching Zodiacs, kayaks etc, without disturbing delicate sea floor areas.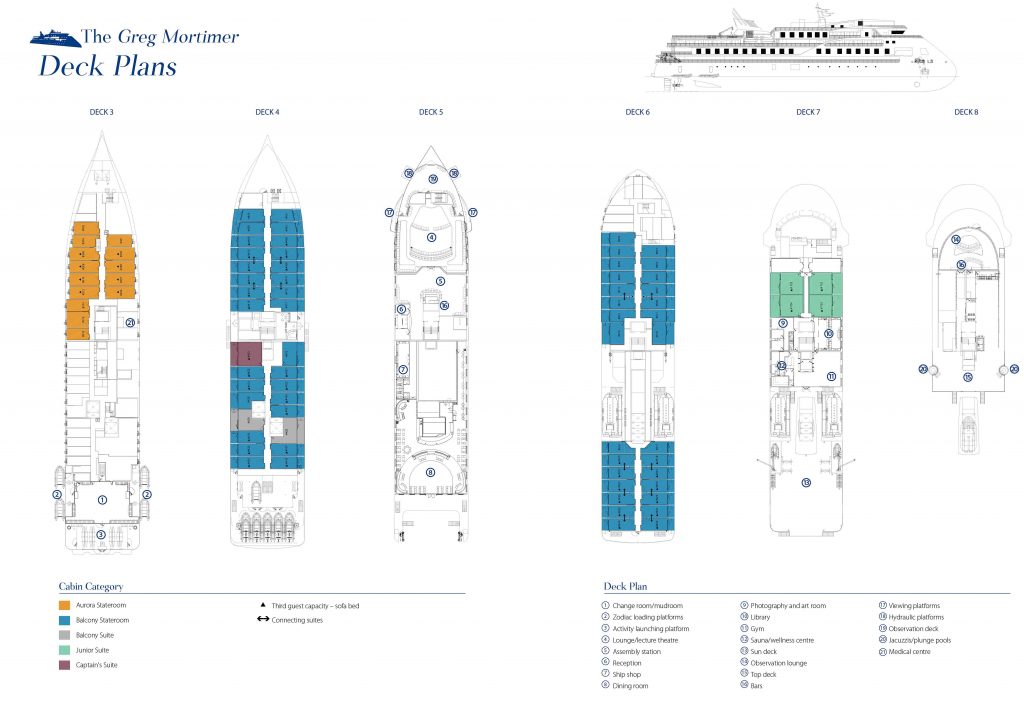 Greg Mortimer deck plan