Vessel Type:  Luxury Small Ship
Length:  90 metres
Passenger Capacity:  116
Built:  1992 / refurbished 2010
With a maximum passenger capacity of only 116, a vessel of her size is capable of carrying many more but instead the MS Island Sky has the benefit of unusually large suites, luxuriously appointed public areas and spacious outside decks.
On board there is a high ratio of crew to passengers. Our friendly crew of 75 are mainly Filipino and Eastern European and our Scandinavian captains are experienced mariners, having been in service aboard large 2000 plus passenger vessels and who now prefer a less frantic life aboard a small ship.   If, like them and us, you prefer a more peaceful life at sea, you will find the MS Island Sky the perfect ship. When choosing the vessel for your next voyage of discovery, you can select a ship with endless entertainment and impersonal service or come with us where peace, high quality service and attention to detail are the order of the day. We promise there will be no organised entertainment, fancy dress, deck games or any of the usual big ship experiences. The atmosphere on board is more akin to a private yacht or country hotel. A little music in the lounge or bar after dinner, guest speakers, informative port briefings from our cruise director and of course good food which may be enjoyed leisurely in the attractive dining room. After a day ashore you will return to the comfort and peace of a well run and exceedingly comfortable ship.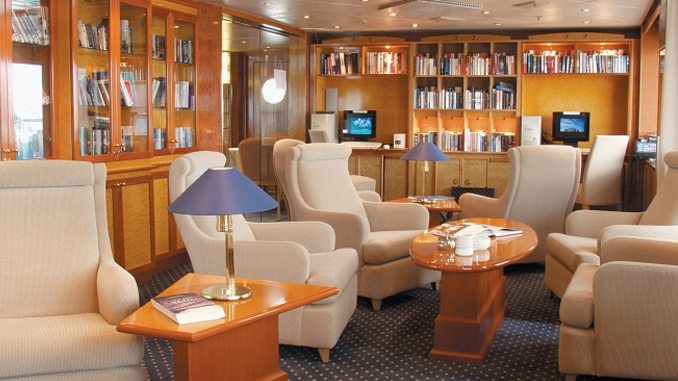 Your Suite
Onboard there are 57 exceptionally spacious and well designed suites. All feature a sitting room area and some have private balconies. The feeling of luxury is enhanced by the wood panelling and brass, which predominates throughout the vessel conveying the atmosphere of a private yacht. The passenger accommodation is arranged over five decks and all suites have outside views. Each affords considerable comfort with en-suite bathroom featuring marble-topped vanity unit with sink and walk-in shower, large wardrobes, dressing table with large mirror and stool and excellent storage. There is a mini-fridge, flat screen television with inbuilt DVD player which can also play CDs and a telephone in each suite. Bottled water, towellingdressing gowns and slippers are also provided for your comfort. Other facilities include a programmable electronic safe, hairdryer, assorted toiletries and individually controlled air-conditioning and heating. The suites on each deck have their own colour theme. Soft hues and blended tones enhance the traditional maritime style making the passenger accommodation an inviting and relaxing place to be.
Your Space
The spacious and finely decorated public rooms include a large lounge where daily briefings and talks will be provided throughout the voyage and an elegant bar where a pianist plays periodically throughout the day. The bar also features a 24-hour tea and coffee station. The onboard library is the perfect place to relax with a book and is stocked with reference books pertaining to the places the vessel is visiting along with a selection of games and two computers with internet access. Daily newspapers and magazines are also placed in the library depending on local availability. There is also WI-FI access throughout the vessel. Outside there is a rear sun deck where meals are served in warm weather under shade, a bar and comfortable deck furniture for sun bathing or relaxing with a book. On the top deck there is a Jacuzzi and further observation and sun deck. There is also a small hairdressers on board with appointments made on request.
Your Dining
Another benefit of a small ship is the quality of the cuisine. With only one sitting and a maximum of just over 100 passengers, the galley is able to provide delicious meals. Where possible and when it meets his high standards, the chef will obtain local produce in markets or buy the catch of the day from a passing fishing boat. Such purchases enhance the well stocked larders and bring a local touch to the varied menus.