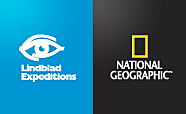 "I believe in creating new possibilities for human experience and understanding."
The words above are from Lars-Eric Lindblad's 1983 autobiography, Passport to Anywhere. Now regarded as the father of ecotourism, Lars-Eric was literally the first travel company owner to take travelers where only scientists had gone—the first to take citizen explorers to many destinations, including Antarctica and Galápagos, in 1966 and 1967, respectively.
By believing that educated people who saw things with their own eyes would be a potent force for the preservation of the places they visited, he made his notions a powerful force for the good of conservation and restoration projects worldwide.
Lars-Eric was a real—as well as symbolic—father, and since 1979 his son, Sven-Olof Lindblad, has expanded his legacy by providing transformative travel experiences in the world's most remarkable places.
The Linblad Expeditions fleet consists of nimble, intimately-scaled expedition ships, able to safely venture where larger cruise ships cannot, allowing Linblad Expeditions to offer authentic, up-close experiences in the planet's wild, remote places and capitals of culture. More than comfortable as your base for exploring, they are outfitted with cool tools that enable a genuine connection with the places we visit, and offer inviting private accommodations, and gracious public spaces for our expedition community to gather.