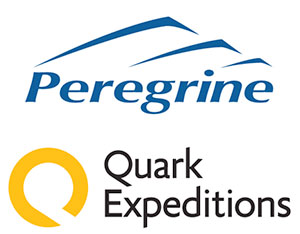 Peregrine are the Australian Operator for Quark Expeditions.
Welcome to one of the last untamed places on earth, where you'll wake each day to the promise of new and unforgettable experiences. From massive penguin colonies to spectacular panoramas of land, ice and water – no two days are the same.
Each Peregrine itinerary has been designed  with a perfect balance of activities and free time to enjoy your surroundings. There is plenty of time spent off the ship exploring on inflatable Zodiac boats, hiking, sea kayaking and bird watching. You might even be lucky enough to camp on the ice.
When you are onboard, we want to ensure you are as comfortable as possible which is why we choose vessels with a maximum 189 passengers (varies between vessels).
One of three ice-strengthened ships: Sea Spirit, Sea Adventurer and Ocean Diamond will be your Antarctic home. These ships provide a warm homecoming at the end of each day, moving quickly between bays, islands and wildlife colonies.
An experienced chef prepares an array of delicious and hearty meals. In your free time, take advantage of regular education programs presented by world-renowned experts. Each ship has a multimedia centre to download your images and burn them to CD. Trust us, there will be plenty of photos to choose from.
Some of the wildlife you can expect to see on your Antarctic voyage includes elephant seals; skuas and other seabirds; large colonies of the comical Adelie penguin, gentoo penguins and breeding colonies of chinstrap penguins; fur seals and blue-eyed shag; humpback whales, orcas and minke whales; and the almighty leopard seal.
Few who embark on this once-in-a-lifetime journey come home unchanged. With over a decade of experience bringing travellers to the heart of Antarctica, Peregrine can help you unlock the secrets of this majestic continent.