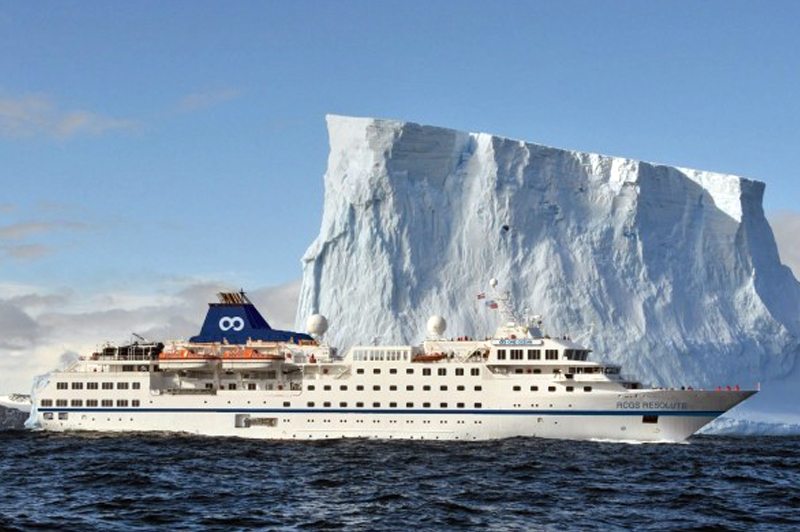 Vessel Type: Polar Expedition Vessel
Passenger Capacity: 146
Built: 1993
Named after the HMS Resolute, a British Royal Navy Arctic exploration vessel, as well as the Inuit town of Resolute in Canada's Nunavut Territory, RCGS Resolute will arrive in Canada in November 2018 for its inaugural polar voyage. RCGS Resolute also carries the name of The Royal Canadian Geographical Society (RCGS), since we are exclusive education, environmental science, and expedition partners in Canada's north. This longstanding partnership works to the benefit of our guests, who have the opportunity to learn from and interact with world-renowned educators, researchers, naturalists, marine biologists, artists, historians and photographers.
With an unsurpassed ice classification, a proven track record for stability and safety, large indoor and outdoor viewing platforms, and exceptional maneuverability, RCGS Resolute is ideally equipped to guide guests through the world's most pristine regions, further expanding our expertise in exploration and discovery. RCGS Resolute will carry a maximum of 146 passengers in unparalleled comfort, with an array of luxury amenities, educational opportunities and activities tailored to guests' particular interests, and individual, personalized service.
Superb Design and Layout
Throughout the ship there are spaces ideally suited to every need. Spacious outer decks provide 360 degree viewing platforms perfect for photography, wildlife watching, birding and appreciating expansive views.  The salt water plunge pool, large relaxation deck, hot water jacuzzi are all located aft of the wellness centre (massage therapy, Finnish Sauna, steam room) and well equipped gymnasium.  Inside there are multiple areas to explore ranging from our well appointed theatre style presentation room, aft observation lounge and bar, forward observation lounge and bar, and both dining rooms. Add in the One Ocean Expeditions multimedia room, and mobile laboratory and the opportunities are endless.
Six Different Cabin Categories
All cabins feature outside viewing ranging from deck three traditional with port holes, up to decks 4 through 6 offering expansive panoramic windows.  Cabins all have lower berths that have the ability to be single beds, or 1 double bed depending on our guests needs.  Extensive renovations have provided new carpets, high quality cabinetry with soft close drawers, contemporary and spacious bathroom design, all paired with soft accent lighting offering options dependant on our guests daily activities and mood. All cabins offer modern sectional lounge quarters, providing a quiet nook to read or catch up on journalling.  Space is exceptional as each cabin offers 22M squared living space, whilst the One Ocean Suites are absolutely palatial offering 44M squared with enough room to entertain or do back – flips (your choice)!
Enjoy Great Dining? So do we…
At One Ocean Expeditions, the priority is on the expedition.  However with every activity, option, event, or excursion we find we build up incredible appetites to indulge in superb and extensive menu options.  Our bistro dining room provides early birds the option to get their social caffeine or smoothy start to the day, accompanied by light breakfast style snacks.  Full meal service includes buffet breakfast and lunches incorporating an international flare.  For those with special dietary requirements – no problem, we can accommodate that too.  Dinner is a great opportunity to catch up about the day's events, as well as look to where we expect to explore next.  Five course menu options are offered a la carte, and seating is open in our business casual dining room featuring 180 degree sweeping views.  There's also an excellent wine list featuring a range of international wines and other beverages of choice.
Join us on the Bridge
There is an open-bridge policy and guests are welcome to meet the navigating crew at virtually any time of day; there's always something to learn from the officers on watch and the bridge is one of the best places on the ship for spotting whales and sea birds.  The bridge is closed during times of tricky navigation, pilotage, or weather.
Operational Safety
There are no compromises here. The expedition staff and crew onboard RCGS Resolute have the deepest respect for changeable weather in the polar regions and the varying sea and ice conditions. That respect is apparent in every decision made throughout the voyage. The ship carries the most extensive inventory of safety equipment on all excursions and require leaders to undergo vigorous and effective safety training programs. Your expedition team are well prepared, so you can relax and enjoy your voyage.