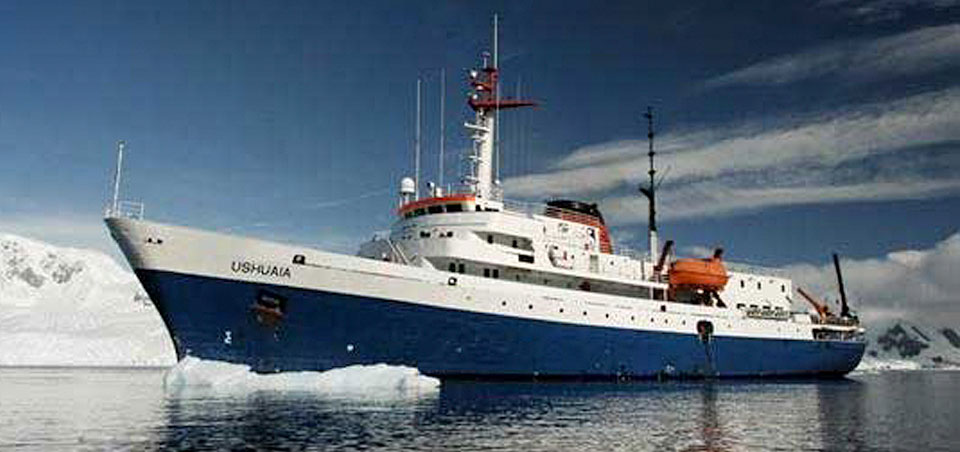 Vessel Type: Expedition
Length: 84 metres
Passenger Capacity: 84
Built / refurbished: 1970 / recent
Originally built for the United States agency NOAA (National Oceanic & Atmospheric Administration), the MV USHUAIA has been refurbished to accommodate a maximum of 84 passengers in 41 comfortable twin cabins and suites. The ice-strengthened polar vessel MV USHUAIA is very well appointed and provides ample deck space and an open bridge policy. The full complement of inflatable landing craft ensures superb landings and wildlife viewing opportunities on the otherwise inaccessible coastline.
All cabins include ample storage space. Public areas feature a large dining room (one sitting), an observation lounge and bar, a conference room with modern multimedia equipment, a well-stocked library, a changing room and a small infirmary. Our expert captain, officers and crew are highly experienced in Antarctic navigation and have a great love of nature. We provide a specialist team of international expedition leaders and lecturers, all extremely knowledgeable, enthusiastic, helpful and dedicated to the protection of the environment. Our chefs prepare excellent cuisine including many local specialties and the bar is well-stocked with carefully selected wines and spirits.