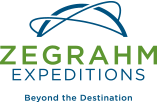 High atop any adventure-seeking traveler's bucket list is Antarctica for its plethora of once-in-a-lifetime adventure travel experiences: cruising among sparkling icebergs with a brilliant blue sky backdrop, meeting an elephant seal pup face to face, visiting a scientific research station at the bottom of the world, photographing thousands upon thousands of penguins. An Antarctica adventure tour is truly one of life's mandatory travel experiences. Zegraham Expeditions Antarctica expeditions follow the routes made famous by Sir Ernest Shackleton and his fellow Antarctic explorers, including Ushuaia, the Falkland Islands, and South Georgia. From the king penguins of Elsehul Bay to the awesome glaciers of Elephant Island to Shackleton's burial site in Grytviken, this is Antarctica adventure travel at its finest and most comprehensive.
A hallmark of Zeghram's Antarctica expeditions is the ability to land by Zodiac wherever nature and curiosity dictate. Zegraham Expeditions travel during the austral summer, making for longer daylight hours and therefore, more landings per day on remote shores. In fact, since Zegraham Expeditions travel south via a small-expedition ship, Zegraham Expeditions enable our travelers to actually set foot on the Antarctic Peninsula, a feat the larger cruise ships simply can't accomplish. Zegraham Expeditions veteran leaders and renowned lecturers are experts in Antarctica eco travel and will provide ample insight into the region, its wildlife, and its history. You'll sail aboard one of Antarctica's finest vessels complete with an ice-hardened hull and technology that allows her to navigate easily in rugged climes, plus she carries no more than 110 curious travelers. If you pack a hefty dose of adventurous curiosity, then you'll love this introduction to the mysteries of the White Continent. And, like many of Zegraham's travelers, they predict you will want to return again, as once just doesn't seem to be enough.
The itineraries Zegraham Expeditions offer vary from year to year; below please find our upcoming Antarctica adventure travel expeditions.